Blair Atholl International Jamborette
The Blair Atholl Jamborette is Scottish Scouting`s premier international event.

It brings together over 1,000 Scouts, Explorers and Leaders from all over the world for a 10 day camp in a picturesque corner of highland Perthshire.

Every 2 years since 1946 the tranquil grounds of Blair Castle have been transformed with participants from all over the world coming together to camp and share in fun, friendship, and a massive range of adventurous activities and challenges.

For the 2014 camp around 1250 Scouts and adults will be taking part. Scottish Scouts representing every District and Region in the country will be paired with counterparts from as far afield as Japan, Russia and Canada. Also taking part are youngsters from far-flung countries including South Africa, Hong Kong and the USA.

Overseas visitors to the camp are treated as the guests of the Scottish Scouts.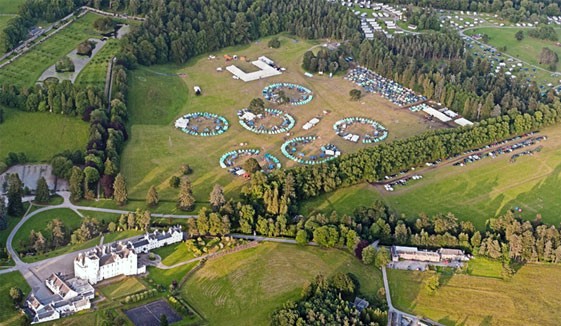 The Scottish Scouts and their overseas guests camp in joint patrols on subcamps and live and work together under the watchful eye of the subcamp teams.

After the camp the Blair Atholl experience continues with a period of up to 5 days home hospitality with the friends made at the camp.

The camp continues to grow in popularity but numbers are capped as it has been said of the Jamborettes that small is beautiful and there are few who attend Blair Atholl that wouldn`t agree!

The vision of the founder, Jack Stewart, that the Blair Atholl formula of scouts camping together in twinned patrols without leaders, one talking to one, two talking to two, four talking to four and so on, as the ultimate equation for better friendship, peace and understanding throughout the nations of the world is still achieved and continues to holds true even now.